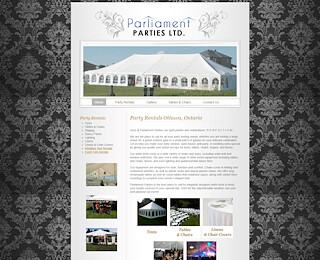 An outdoor wedding can be a wonderful and memorable thing. Make sure your guests take away find memories, not recollections of blazing sun or unseasonable rain showers. When you are ready to reserve your wedding tent rental, Ottawa, contact Parliament Parties and tell us what you need and when.
Wedding tents are the perfect solution for hosting a weatherproof wedding. These massive plain white structures are the perfect blank canvas for your wedding set-up and they can be decorated in a million ways, depending on your wedding theme. However, if you are using tent rentals, be sure to coordinate with your provider to find out about their policies when it comes to decorating the interior and even the exterior of their tents. This way, you will avoid damaging the tent and incurring extra cost because of such damages.  If you are looking for a reliable
wedding tent rental Ottawa
company, check out services provided by Parliament Parties. We offer a wide variety of tent rentals, as well as table, chair, and party accessory rental services to cater to all your party tenting needs.
Lightweight drapes such as stripes of organza and tulle hanging from the tent ceiling are perfect if you want a chandelier effect for an overhead decor. Balloon clusters are also commonly used, along with paper lanterns, which also add a good amount of lighting to the set-up. Strings of light hanging from the ceiling along with light fabrics that can be wrapped around the tent posts also add to the romantic ambiance of the tent interiors. Tables and chairs can also be covered with white or sheer fabrics to add to the dreamy and enchanting ambiance of the event. If you are looking for affordable wedding tent rental Ottawa, check out our prices at Parliament Parties.